Need to free up space in your home, condominium or villa? Here are some helpful storage ideas that may be quite a space saver.
Each day, people accumulate more and more possessions, all of which need to be stored away somehow. This is an even bigger challenge as families expand and sections of the home need to be set aside for the children's things. In many cities, the size of apartments and houses are getting smaller, and many of us are choosing to live small because of the benefits the lifestyle offers. All of these factors mean one thing: storage space is a luxury and a prime real estate.
Here, we list down on how homeowners and architects maximized storage spaces in homes with smart solutions.
Storage Under a Raised Mezzanine Floor
Mezzanine floors are a cost-effective way to increase capacity of an area for additional manufacturing space or storage. The flooring can be used to double or even treble your floor space by building an extra floor within the height of an existing building or unit. By filling up the space of the raised floor, a storage is a great idea to maximize it giving you extra storage space to place in specific items.
Kitchen With Discrete Floor-to-Ceiling Cabinets
A full wall of floor-to-ceiling cupboards makes maximum use of space and keeps the worktop gloriously free of clutter. It makes the kitchen area remain as light and airy as possible, even though it's can be crammed with so much things such as food, utensils, produce, stock and etc.
From Desk to Bed
A combination that allows for space saving at it's best. Leave your stuff on the massive desk where you can easily switch between bed and desk functions with one push that save space in almost any situation and fit every need just in case you need an extra bed for guests on your your condominium/pad.
Under-Stair Cabinetry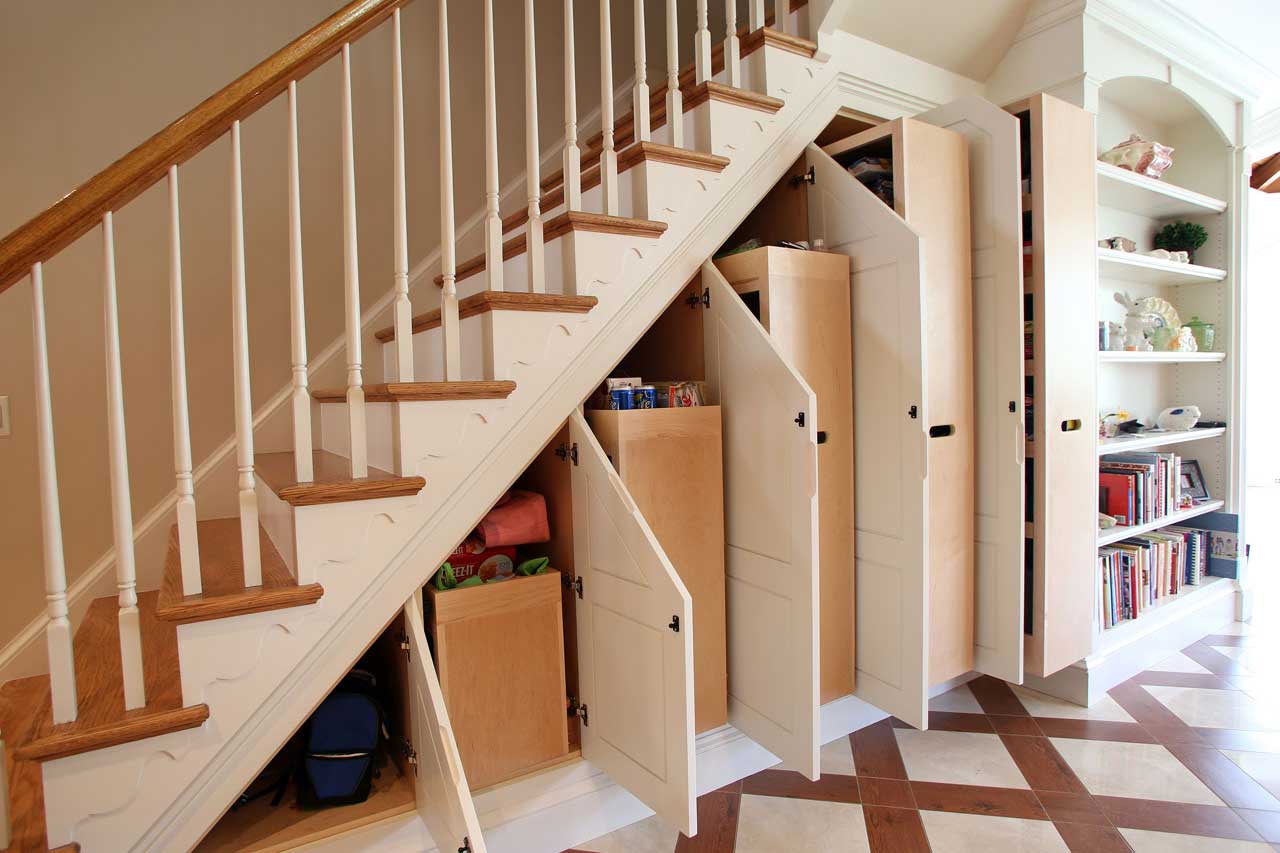 Shelves and storage spaces under staircase are the best tricks to use the area underneath the stairs. Stairs are most commonly found on hallways. The hallway by due to its nature is like a very busy intersection with streets coming from all over the place. This means that this space can be used to store something that has to be at any moment at hand.  Depending on what type of situation you are facing and what décor or architecture that space under your stairs from the hallway can be used to expand your décor or as storage area. A very good idea that also comes in quite handy is to transform that space to store your shoes and clothes for the cold\warm season.
We hope that you remember all these clever storage hacks for storage throughout your house!  Do You Have any favorite storage solutions we missed for the kitchen, the dining areas, the bedroom, or any other area in the house? Leave a comment below! If you may think of looking at renovating your place and having these storage ideas, don't hesitate to contact us!